Based in Brampton, Cumbria, The Larches Rug Wash was founded by Emma Hutchinson in 2006 and provides a high quality horse rug washing and repair service at affordable prices.
We return your horse blankets to almost new condition, in even the most difficult of cases.

The Larches Rug Wash has a wide and extensive customer base providing Washing and Repair services for Tack shops, Livery yards, Event yards, and Racing stables as well as family horses and ponies.

We guarantee to provide you with a prompt, efficient, reliable and courteous service.
 
The Larches Rug Wash team pride themselves on providing a very personal service which guarantees high quality standards throughout the process.

The entire Washing and Repair service is carried out 'in house' by a qualified and experienced team of people.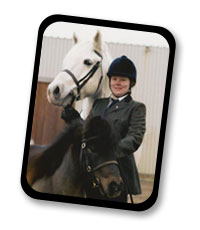 The Larches Rug Wash has recently invested a significant sum of money updating and improving the range of machines so that they are able to ensure that all the different types of rugs and their conditions are treated appropriately.

The re-proofing process is performed so that the entire rug is treated, the outer, inner wadding and lining. The frequency of re-proofing depends on the age of the rug; a re-proofing treatment should last for a season and is recommended to be done annually.

Emma is herself a horse owner and breeder and therefore understands the needs and requirements of her customers and will gladly offer advice on all 'Rug Washing & Repair' matters.